A commonly asked question is, "how dangerous is being a lineman?". Power linemen face many workplace hazards every day. And is one of the most dangerous jobs behind loggers. The line trade is hazardous because of inadequate safety equipment, high voltage power, heights, nighttime work, extreme weather conditions, long hours, motor vehicle accidents, and exposure to toxic substances.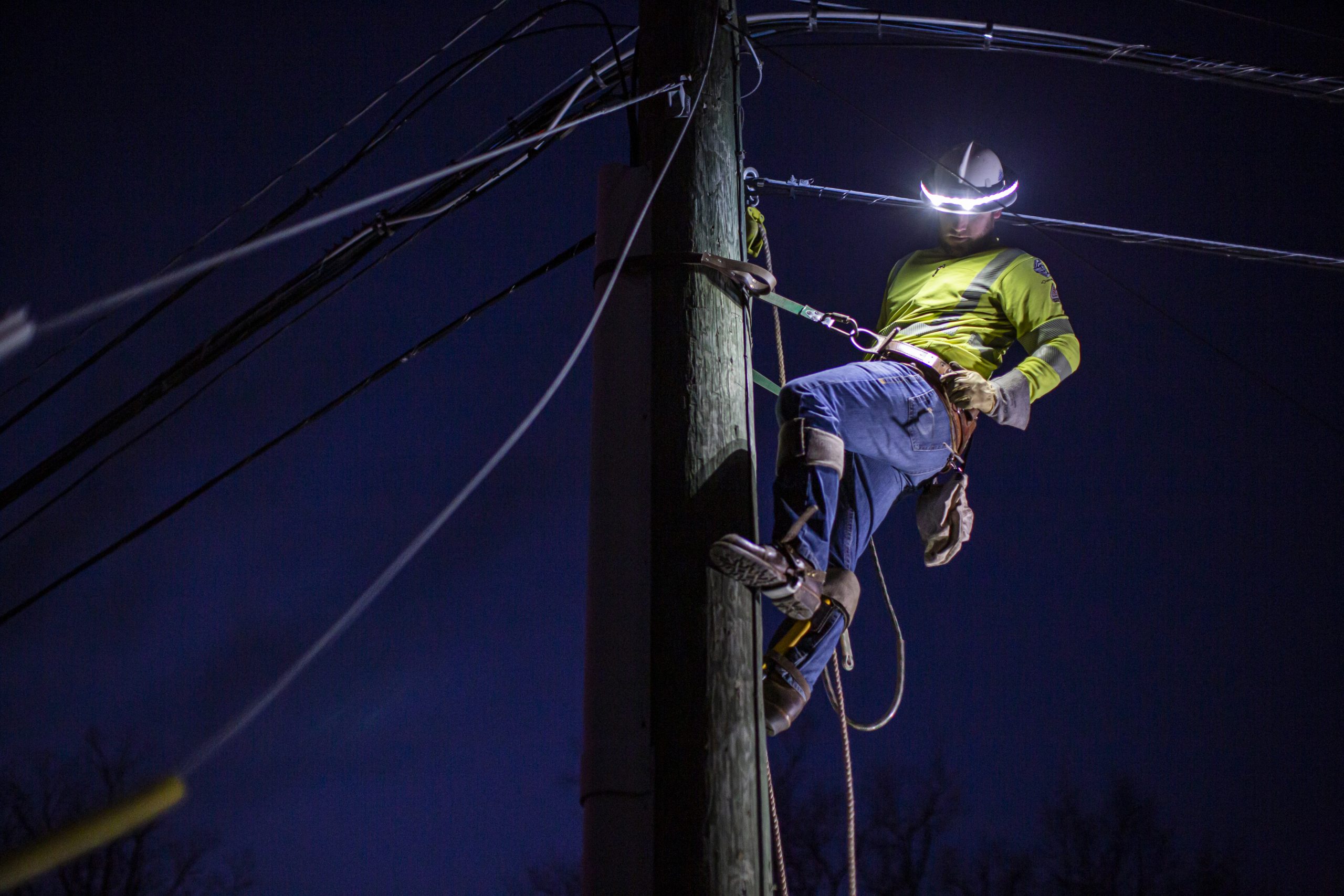 All of these things mentioned often cause electrical workers to become seriously injured. In addition to these constant threats, mother nature is constantly changing the environment. In some cases, these incidents can even be fatal. Recognizing the magnitude of these dangers and taking appropriate safety measures can help keep utility workers safe.
Some of the most common dangers of electrical linemen at work include:
Inadequate safety equipment. Utility companies are required to equip their crew with appropriate PPE. Two great pieces of equipment to help keep line crews safe and seen are our Halo SL and Sixth Sense. The Halo SL helps linemen see and be seen, and our Sixth Sense is a personal voltage, current, and fall detector. 
Electrocution. Working around high voltage is dangerous. So we came out with a personal voltage, current, and fall detector. It senses what you can't by sensing voltage and current to help workers stay safe while doing their jobs. For example, if power lines are damaged or improperly handled, they could electrocute workers. Sixth Sense detects voltage and current to help combat this problem. 
Falls from heights. Linemen perform many tasks like installs, repairs, and upgrades from high heights. Working at heights puts them at risk of sustaining injuries from fall accidents. A Sixth Sense attached to their hard hat will send an emergency fall notification via SMS. Unfortunately, accidents happen, and keeping your crew informed of these accidents can be life-saving. 
Extreme weather conditions. Some linemen like to storm chase. That is where the work is. Power linemen are often responsible for restoring power during significant storms. These crews are usually exposed to extreme weather conditions, such as heavy winds, rain, snow, ice, and flooding.
Long hours. Utility workers often work long hours, especially during an intense storm that requires emergency power restoration services. These long and intense hours can sometimes affect the worker's performance, which can increase the risk of injury.
Motor vehicle accidents. When linemen crews are headed to restore power during a major storm, the driving conditions can be hazardous.
Exposure to toxic substances. Linemen can be exposed to asbestos. Modern power lines no longer use asbestos, but when working with older lines predating the 1980s, they can expose workers to this toxic substance.
How linemen can stay safe in the workplace. Many hazards put linemen at risk of injury or death, but there are several ways utility workers can keep themselves safe on the job. First, be aware of your surroundings. Staying aware of tools, equipment, and other workers helps eliminate potential hazards. Work in teams and maintain clear communication. Also, watch out for the safety of other crew members. Have proper utility tools and equipment. Practice patience and do not rush through a job. Practicing proper techniques and working slowly can help make sure the job is done correctly and workers are safe. Wearing the appropriate PPE. Having the right gear, especially when it comes to PPE, helps tremendously.