To keep a job site running efficiently, it must be running safely. You may think you know everything there is about construction site safety but staying vigilant is key in keeping workers and visitors to the job site safe. Read on to find tips to keep a worksite safe.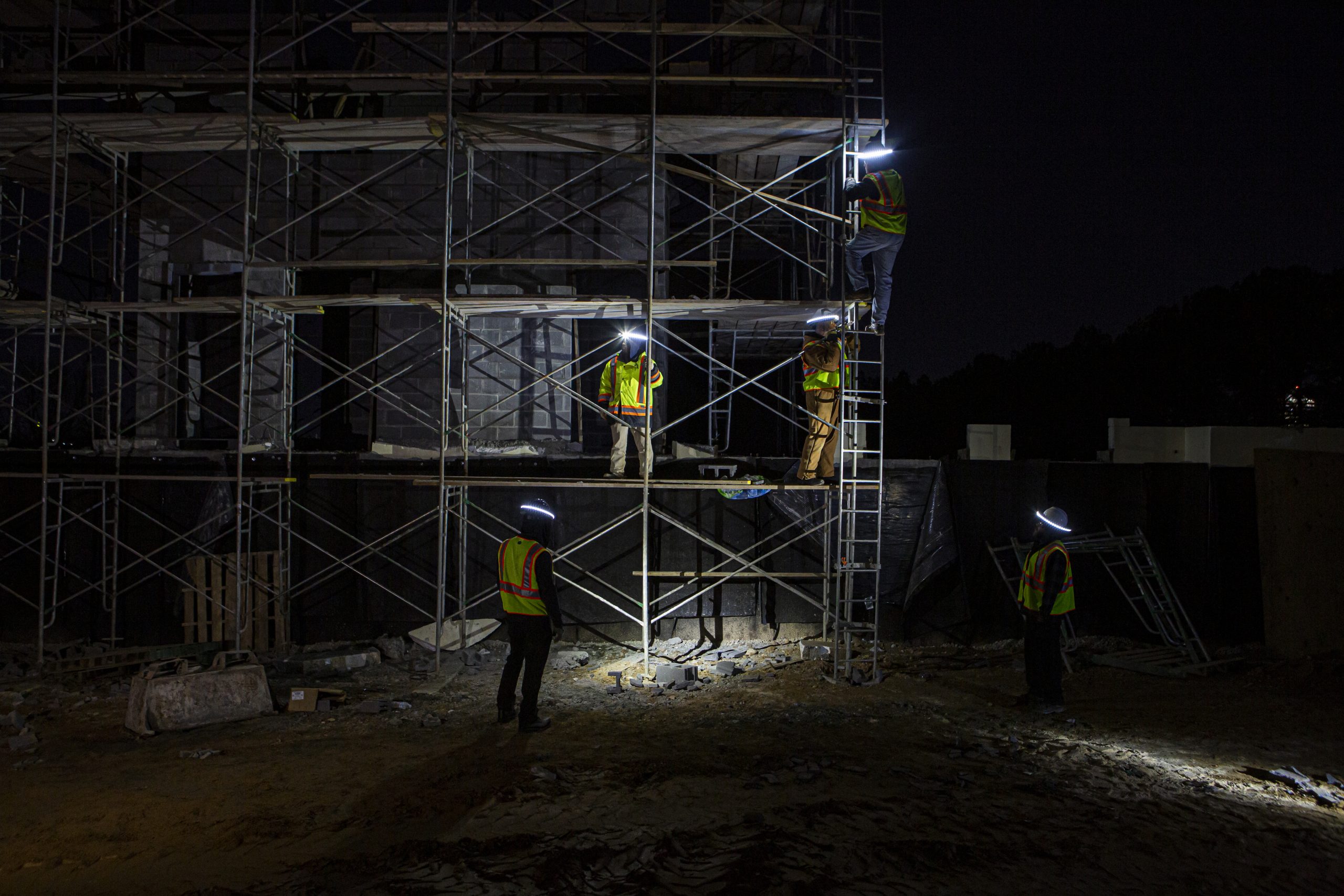 Construction workers are exposed to hazards that place them in danger daily. Taking extra measures to keep the worksite safe is not only best practice but is also required by the Occupational Safety and Health Administration (OSHA). All workers have the right to a safe workplace. Employers are required to provide a construction site free of recognized hazards. Employees are encouraged to report any construction site safety issues. It is illegal to retaliate against an employee for making a report about unsafe work conditions to their employer or directly to OSHA.
Keep it Tidy
Keeping your construction site tidy is an important and overlooked step in keeping it safe. Daily cleaning needs to take place to ensure that loose nails, debris, dust, and stagnant water are not cluttering or endangering your worksite. Tools need to be organized and stored correctly. Nothing should be left lying around the job site, and all tools should be unplugged when not in use. Keeping tools organized will prevent them from being damaged and possibly causing injury to workers. When everyone knows how to clean up and store their tools, navigation of the construction zone will be safer and more efficient for everyone involved.
Frequent Training  
In most construction, the best way to learn is with hands-on experience. However, safety is the exception to this belief. All workers should be aware of the dangers they will be exposed to before stepping onto the construction site. OSHA offers many resources to train new employees on safety and security practices. Ongoing training will keep workers mindful of standards for construction site safety. It is easy to become careless when you are doing the same thing day in and day out. Regular training sessions on and off the job site will create workers who can recognize a risk when it arises and know the proper steps to take when an accident does happen.
Always use PPE
Personal protective equipment (PPE) is specialized clothing and other gear worn by workers to protect them from hazards. One of the most common injuries on a construction site is from falling. Proper PPE can help prevent falls and also protect workers when a fall occurs. Work boots with slip-resistant soles will provide steady footing when climbing ladders or walking on high structures. Hard hats can protect workers from a fall or falling objects on a job site. With ILLUMAGEAR's Sixth Sense, which attaches to your hard hat, work crews can be notified if a crew member goes down. Other frequently used PPE includes gloves, goggles, ear plugs, and high visibility vests and suits. Visibility can be a huge added risk on a construction site. The desire for fewer workplace injuries is why ILLUMAGEAR created the Halo SL. It provides 360° lighting, which enables the user to See and Be Seen in all directions.
Communication and Supervision
Without clear and concise communication, accidents are more likely to occur. Safety talks to begin the day will set clear goals and get everyone on site on the same page. Informing workers and ensuring everyone understands their role will help with efficiency and keep workers mindful of best safety practices. A strong leader is needed on-site to enforce safety standards without hesitation. When a worker is not complying with safety standards, a supervisor can quickly step in and redirect them. Intervention will keep bad habits from forming and protect everyone on site. Its also key that a supervisor maintain open communication with their workers so the team members feel comfortable coming to a supervisor when they see safety issues as well.
To maintain construction site safety everyone must be aware. Never stop training, take steps to improve your safety with the best PPE, and communicate with those around you. Create a safer industry one job site at a time.